Key Ready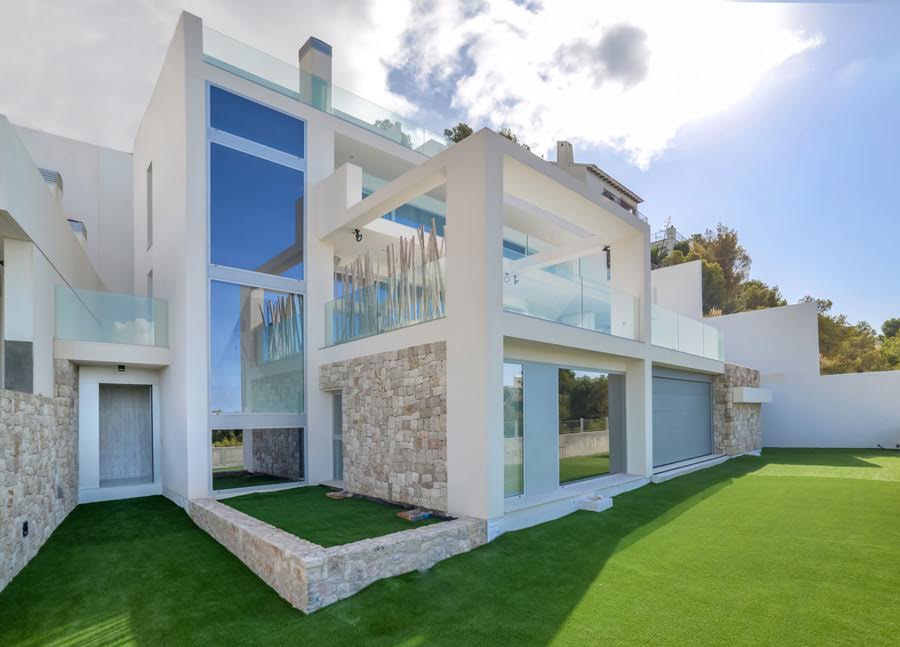 11 luxury villas of an exclusive design, which allows us to feel the calmness of the mountain together with the beautiful horizon of a blue sea, synonym of comfort.
New modern style villas, situated in a peaceful and residential area on the Costa Blanca.
Each of them is a luxury three levels house with a total build area of 835m2, and with video and alarm systems.
The residential complex has leisure area, video cameras and concierge to give the villas the comfort the owners wish for.
The distance to the beach is 4 km and it is next to the golf course Don Cayo, tennis court and famous port Luis Campomanes.
Each of the 11 villas offers 4 large bedrooms, 5 bathrooms, a garage for 2 cars and private infinity pool with Jacuzzi.
The property has a spacious living room with fireplace and high windows with a lot of daylight into the room, guest room, gym, a games room, laundry, wine cellar and storage room.
On the main level, there is the open plan fully equipped kitchen with an island.
The property is equipped with centralized air-conditioning, under floor heating in the bathrooms.
Magnificent panoramic views across the Mediterranean Sea from the terraces.
The residential complex has good transport connection, it is quite far from the noise roads but in the same time close to the highway, center of Altea, beautiful bays of Mascarat and sandy beaches of Calpe. All services and amenities: next to the private schools, shops, banks, café shops and restaurants.
The architecture, modern design and high quality interior decoration of stunning villa bring comfort to enjoy your life in the special place of sunny Costa Blanca.