Under construction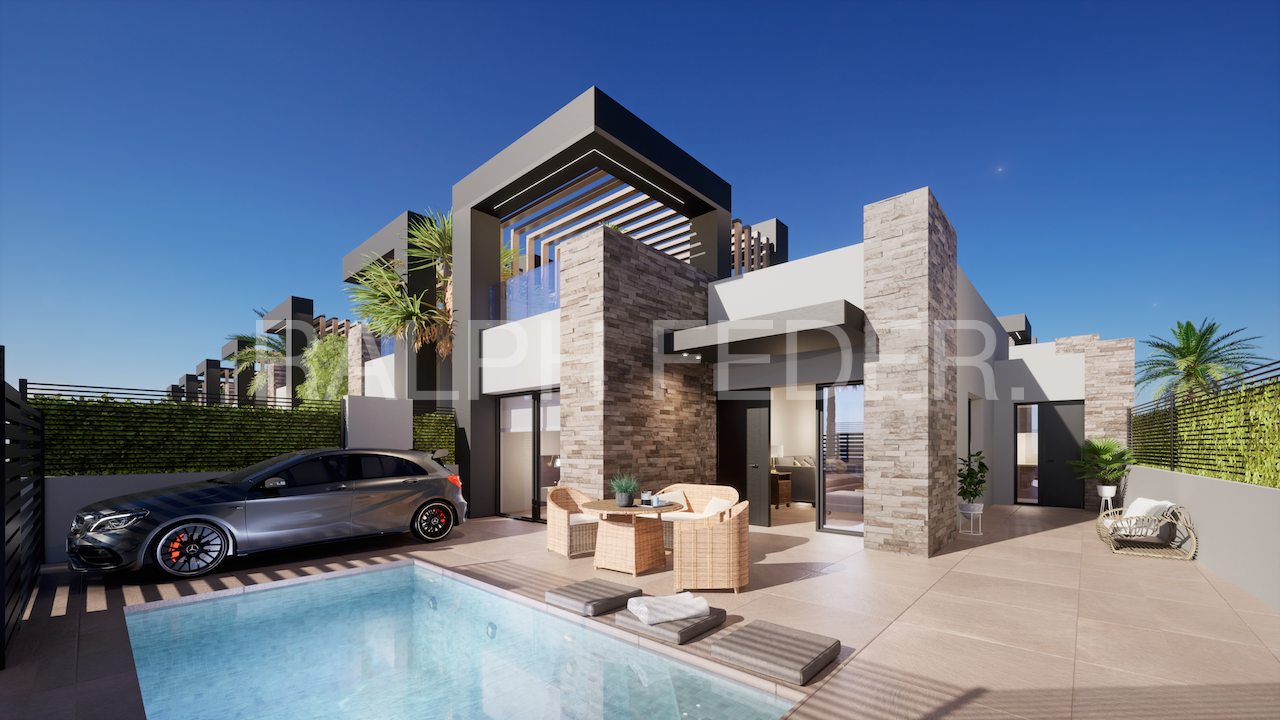 Introducing Villas Saito: A Harmonious Haven in San Fulgencio
Experience the epitome of modern living with Villas Saito, an integral part of our latest project nestled within the picturesque town of San Fulgencio. This exclusive development is designed to provide the perfect blend of tranquility, luxury, and convenience.
A Privileged Location
San Fulgencio boasts a well-established community with minimal ongoing construction, making it a truly privileged location. Situated just under 9 kilometers from the charming seaside town of Guardamar, residents of Villas Saito can indulge in long stretches of white sandy beaches and a refined harbor adorned with a plethora of bars, shops, and restaurants along its seafront. Despite its size, San Fulgencio offers an array of entertainment and amenities, along with a diverse cultural heritage that can be explored at its archaeological museum and newly established theater building.
Seamless Connectivity
Villas Saito's strategic location ensures easy accessibility to everyday conveniences. Grocery shopping is a breeze, with a short walk into town eliminating the need for a car. For more extensive journeys, such as trips to the airport, the A7 motorway link is just an 8-minute car ride away. This route conveniently leads to Alicante airport in under 30 minutes, ensuring hassle-free travel.
Elegance and Functionality Combined
The heart of each Villa Saito residence lies in its spacious 3-bedroom, 2-bathroom layout. The master bedroom boasts an en-suite bathroom for added convenience. Each room features fitted wardrobes, while the open plan living and dining area showcases an elegant kitchen with a breakfast bar. The thoughtfully designed ceiling height enhances the sense of space and light, creating a harmonious and inviting atmosphere.
Harmonizing with Nature
Villas Saito embraces its surroundings by seamlessly blending into the landscape. Each property is designed on a single level, ensuring a harmonious integration with the environment. The meticulous design process, spanning months of innovative planning, results in homes that are both practical and comfortable, making them a true sanctuary for you and your family.
Unwind in Style
One of the standout features of Villas Saito is the expansive rooftop solarium, adorned with a stunning wood-like pergola. This enchanting space provides an idyllic setting to enjoy long summer evenings or even to install a private hot tub for those intimate moments of relaxation.
Key Features
3 spacious bedrooms
En-suite bathroom in the master bedroom
Single-level design for seamless integration
Walking distance to all essential amenities
Just 10 minutes from the captivating beaches of Guardamar
Expansive rooftop solarium with a captivating woodlike pergola
Experience the pinnacle of contemporary living at Villas Saito. Your new haven of elegance and style awaits in the heart of San Fulgencio. Contact us today to embark on a journey of luxury living like no other.