Key Ready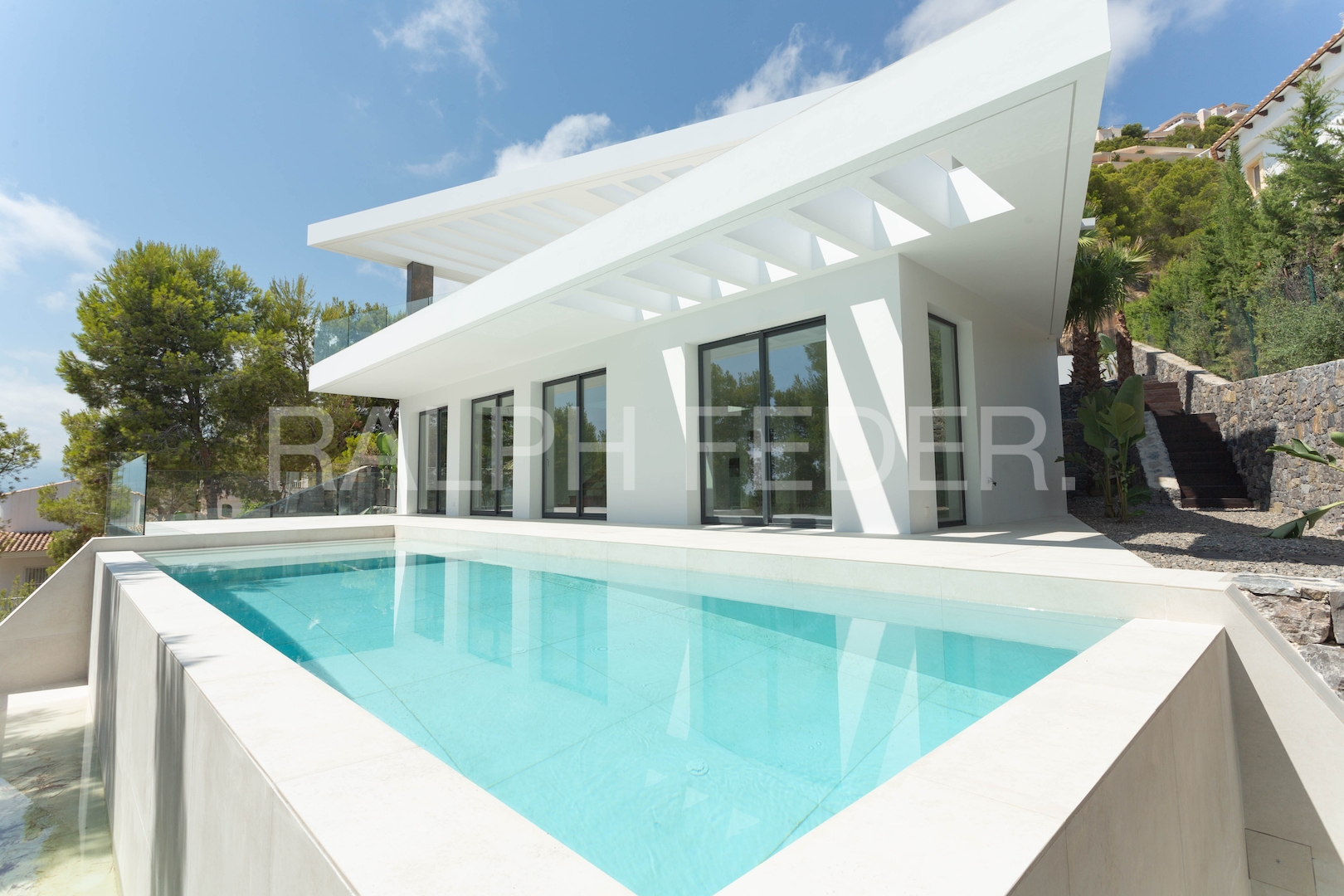 Welcome to a realm of unparalleled luxury and tranquility, nestled within the prestigious and secure haven of Altea Hills—an elite urbanization renowned for hosting the finest villas along the Costa Blanca. Here, in this privileged enclave, you'll discover a villa that embodies the epitome of refined living, offering a harmonious blend of serenity, breathtaking views, and lavish comfort.
A Privileged Retreat
Perched gracefully within Altea Hills, this villa is an ode to exclusivity and sophistication. Allow yourself to be enveloped by the tranquil ambiance of this magnificent Spanish paradise, where every moment is a symphony of quietude and beauty.
Unobstructed Vistas
Positioned atop the plot, the villa commands a panorama that is nothing short of mesmerizing. Gaze out upon the azure expanse of the Mediterranean Sea, while the enchanting town of Altea unfolds below—a spectacle of charm and allure. The lower reaches of the plot are adorned with lush vegetation, enhancing the visual tapestry and forging a harmonious connection between sea, mountain, and home.
A Masterpiece of Design
This villa spans four exquisite levels, each meticulously curated to embrace both luxury and functionality. Step into the domain through the garage, descending to the first level—a haven of four bedrooms, each with its own private en-suite sanctuary.
A Symphony of Light and Space
Venture further below to discover the heart of the home—an impeccably designed kitchen, a gracious dining room, and a living space that opens seamlessly onto an expansive terrace. The pièce de résistance? An «Infinity» swimming pool that appears to meld with the endless horizon, a captivating visual fusion of land, sea, and sky.
An Oasis of Recreation
On the ground level, a realm of possibilities beckons. A generous room, a canvas ready to transform at your command. Create a personal haven—a state-of-the-art gym, a sanctuary of relaxation with sauna and billiards—let your imagination guide your aspirations.
A Symphony of Sea and Sunlight
Throughout the villa, rooms are thoughtfully oriented towards the sea, where sunlight cascades in, illuminating the spaces with a golden embrace. Nature's grandeur, coupled with the use of exquisite materials, bestows an ambiance of timeless elegance, crafting an ideal abode to call home.
An Unspoiled Haven
Surrounded by untouched landscapes, this villa is a haven of tranquility and grandeur. Live in harmony with nature, enveloped in a realm of unparalleled luxury and aesthetics, where the finest materials harmonize with breathtaking surroundings.
Your Oasis Awaits
Indulge in the allure of Altea Hills—where quietude and grandeur converge, creating an atmosphere that beckons to the soul. This villa stands as a testament to opulence, an architectural masterpiece poised to embrace your dreams and desires.
Secure Your Legacy
An opportunity of this magnitude is a rare gem. Embrace the allure of Altea Hills and make this villa your own, where every day is a symphony of serene beauty and luxurious living. Contact us today to embark on a journey of refined elegance and secure your legacy within the embrace of Altea Hills.