Key Ready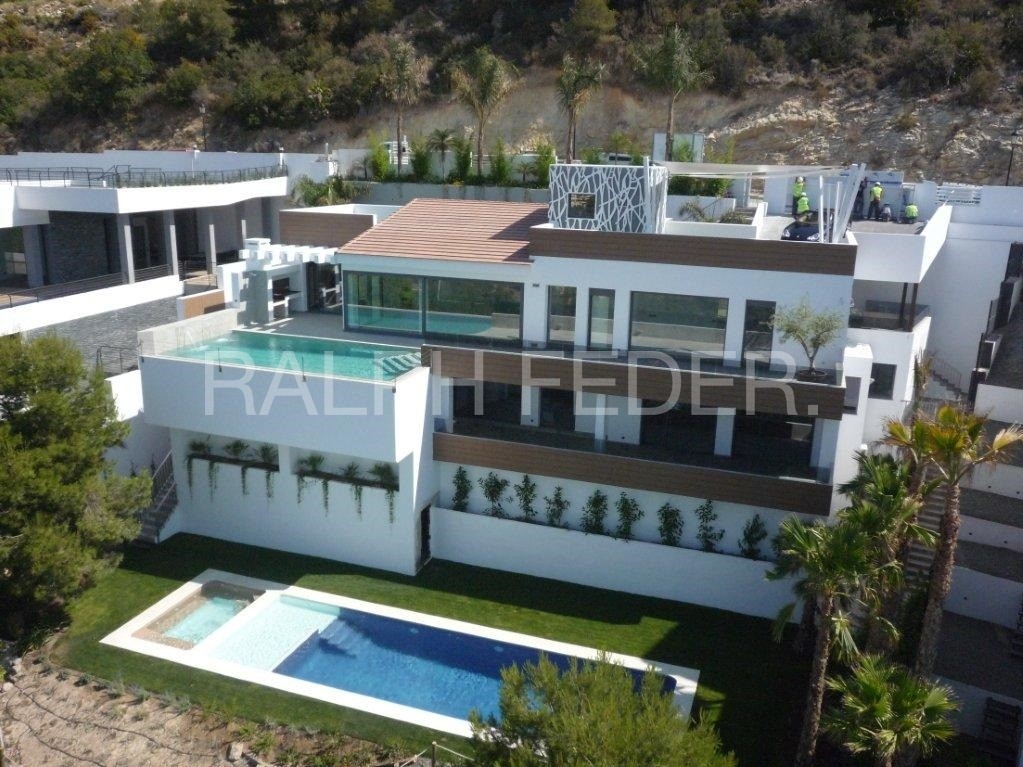 Located on a hill, this villa allows magnificent views of the Mediterranean landscape, being on the sunny side of the mountain.
The design is modern and minimalist, creating a feeling of light and open space.
Built with top quality materials, it has two floors and a large basement. There is enough space for parking for a minimum of two cars.
On the first floor there is a large 60m2 living room with fireplace, a dining room with panoramic views of the sea and pool. Nearby is the 18m2 kitchen with access to the patio on one side and access to the pool with a 20m2 barbecue area from the other side. To the left side of the entrance is a 50m2 bedroom, which has a spacious bathroom with a hydro massage unit and shower, as well as a dressing room. It is also important to highlight the panoramic views of the sea from the bed, as well as from any other corner of the room. In addition, there is access to a large terrace.
On the ground floor there are three bedrooms, each with its own bathroom and dressing room, as well as panoramic views of the pool and the sea. The master bedroom has an area of ​​72m2 in which there are 2 bathrooms and 2 dressing rooms, also an office and library area. The second room is 20m2 with a 11m2 bathroom. The third bedroom is 23m2 with a 19m2 bathroom.
Currently, in the basement there is no completed renovation, as additional bedrooms or a leisure / sports area can be integrated at the request of the client. There are several options for the design solution in this space. The basement is at the level of the exit to the second pool.