Project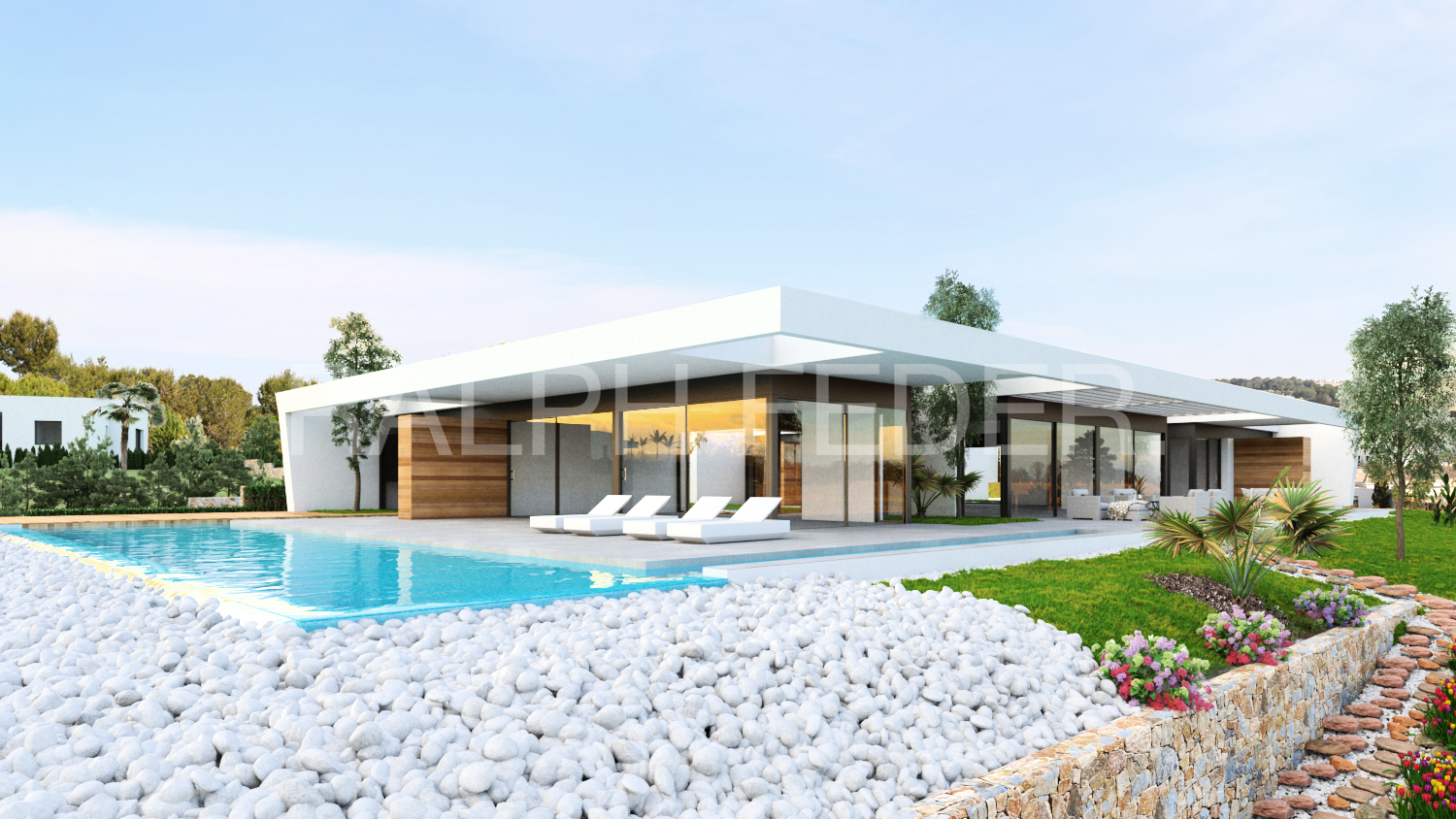 Overlooking the 18th green and the club house the views from this spectacular villa, located on a double plot are amazing.
When entering the villa your eyes will be drawn to the fountain along the footpath with running water and vegetation inside. At night time, when illuminated this feature is even more spectacular.
Inside the villa you will find a living room of almost 90 m2. With the panoramic windows towards the terrace and golf course the living room offers lots of natural light.
On your right hand side you will find the dining area and open kitchen of 58 m2. Behind the dining area a chimney integrated in the stone wall gives a lovely atmosphere. The kitchen from Porcelanosa, Gama Decor, comes with all cabinets in wood and with a worktop in natural stone. All appliances from Miele.
Behind the kitchen you will find the Master bedroom. The Master bedroom with a total of 44 m2 offers open wardrobes, en-suite bathroom and bathtub. Also from the Master bedroom you have access to the terrace and the swimming pool.
On your left hand side from the entrance of the villa you will find another living room of 44 m2 – connected to the main living room. Bringing both living rooms up to a total of more than 130 m2.
Also you will find 3 double bedrooms of 23 m2, each with their own en-suite bathrooms, and another kitchen.
Each guest bedroom has its own private terrace. The second kitchen is hidden behind moving panels and is thought to be used as a second kitchen, when having a greater number of guests. As it is made in extension from the exterior kitchen, it will also serve as preparation for the barbecue etc.
From the second living room you have access to a patio terrace of 38 m2, while from the kitchen, dining area, living room, master bedroom and second kitchen you have access to the main terrace of 232 m2. This terrace is divided into minor areas by playing with the tiling. The swimming pool has a beach area and a Jacuzzi area integrated in the swimming pool.
From the living room you have a staircase taking you down to the basement.
In the basement you will find a tv/cinema area. If you're not in the mood for sitting on the terrace you can invite your friends over for a wine-tasting in the basement. Behind the tv area, you will find a bar area, with table and chairs and of course a walk-in wine-room. Also in the basement you will find an indoor swimming pool, sauna and a big parking area.