Under construction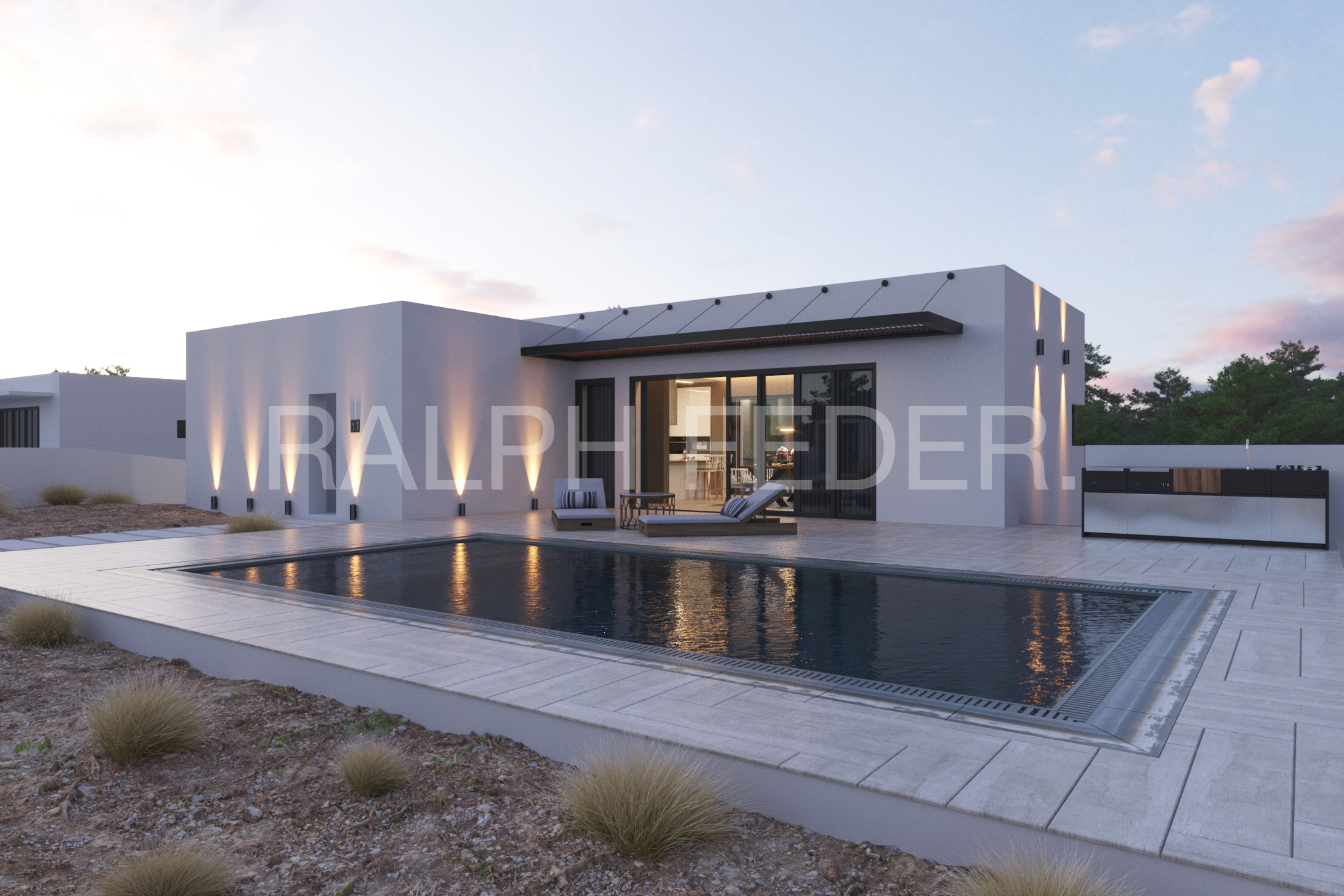 ELEVATE YOUR LIFESTYLE: NEW MODERN VILLAS IN LAS COLINAS GOLF & COUNTRY, ORIHUELA COSTA
Welcome to a world of refined luxury and contemporary living at Las Colinas Golf & Country, Orihuela Costa. Nestled within this prestigious community, a collection of modern villas awaits, embodying the perfect synthesis of elegant design and captivating natural surroundings.
Discover Modern Elegance: Las Colinas Golf & Country
Renowned for its exclusive ambiance and world-class amenities, Las Colinas Golf & Country sets the stage for a lifestyle defined by sophistication and leisure. The modern villas presented here seamlessly blend into this prestigious landscape, offering the perfect synergy between architecture and nature.
Exceptional Design and Spacious Living
This remarkable project unveils 10 luxurious villas, each a testament to meticulous design and spacious opulence. The villas boast generous floor plans ranging from 165 to 169 sqm, thoughtfully designed to provide ample living spaces for your comfort and pleasure. With 3 bedrooms and 3 bathrooms, these residences offer a harmonious blend of privacy and togetherness.
A Symphony of Outdoor Living
Step onto the sun terrace and solarium to experience a true symphony of outdoor living. Whether you're savoring a morning coffee or basking in the golden hues of a Mediterranean sunset, these outdoor spaces provide the perfect backdrop for cherished moments.
Private Paradise: Your Own Oasis Awaits
Each villa is situated on expansive plots ranging from 700 to 960 sqm, ensuring your own private paradise. Immerse yourself in captivating landscape views that stretch before you, offering a sense of tranquility that only nature can provide. Enhance your days with refreshing dips in your private swimming pool, a testament to the luxury of exclusivity.
Elevated Lifestyle, Unparalleled Comfort
With an emphasis on quality and sophistication, these modern villas offer a range of features designed to elevate your lifestyle. Private parking spaces accommodate multiple cars, ensuring convenience and ease. The proximity to Las Colinas Golf & Country's exceptional golf course and amenities ensures a life of leisure and indulgence.
Seamless Harmony: Your Home Awaits
At Las Colinas Golf & Country, the modern villas are not just residences; they are a harmonious extension of the idyllic surroundings. It's a place where refined design and natural beauty coexist in perfect harmony, offering you the ultimate retreat from the ordinary.
Explore Your Future: Las Colinas Awaits
Indulge in the allure of Las Colinas Golf & Country and explore the possibilities that these modern villas offer. Experience a life defined by elegance, comfort, and sophistication. Contact us today to discover the path to elevated living and make Las Colinas your new address. Your modern villa in this exquisite community awaits, ready to transform your dreams into reality.