Under construction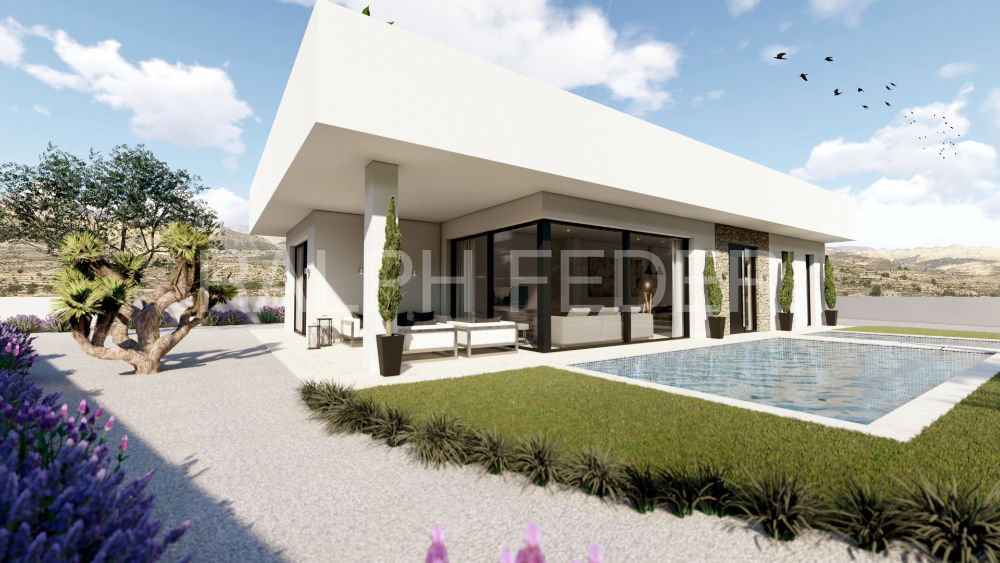 Elegant Villa Designed for Unrestricted Living
Step into a world of refined luxury with this exceptional villa boasting 3 bedrooms and 2 bathrooms. Designed with an unwavering commitment to seamless living, the villa's open lounge-diner and kitchen area effortlessly connect to the inviting terraces and the alluring pool area, creating a harmonious flow without any barriers.
Outdoor Bliss and Mediterranean Delights
Embrace the allure of outdoor living as exterior terraces seamlessly blend with the pool and lounge area. These versatile spaces, whether covered or uncovered, invite you to create your personal haven of relaxation, complete with chill-out zones and al fresco dining areas. Enlarging your family area to the outdoors, you can bask in the Mediterranean climate at your leisure.
A solarium terrace offers an elevated retreat, providing breathtaking panoramic views of Alicante's skyline and the glistening sea. The villa's window spaces are adorned with electric-operated blinds crafted from high-density aluminum, ensuring security, insulation, and comfort.
LED fixtures adorn exterior walls, gates, and the pool, instantly transforming your villa into an enchanting oasis. The exterior areas are thoughtfully finished with tasteful paving, artificial lawn, and a low-maintenance garden, radiating elegance and tranquility.
A World of Convenience Awaits
Situated in proximity to Busot, shopping and leisure are easily accessible. Larger shopping complexes and commercial centers await just 7 kilometers away in San Juan, on the outskirts of vibrant Alicante.
Immerse yourself in the nearby beaches of Campello and San Juan, a mere 15-minute drive (9 kilometers) from the villa. This property offers the best of both worlds—indulge in the privacy of your personal paradise while having all essential services at your fingertips. Experience a life where luxury and convenience unite seamlessly.