Under construction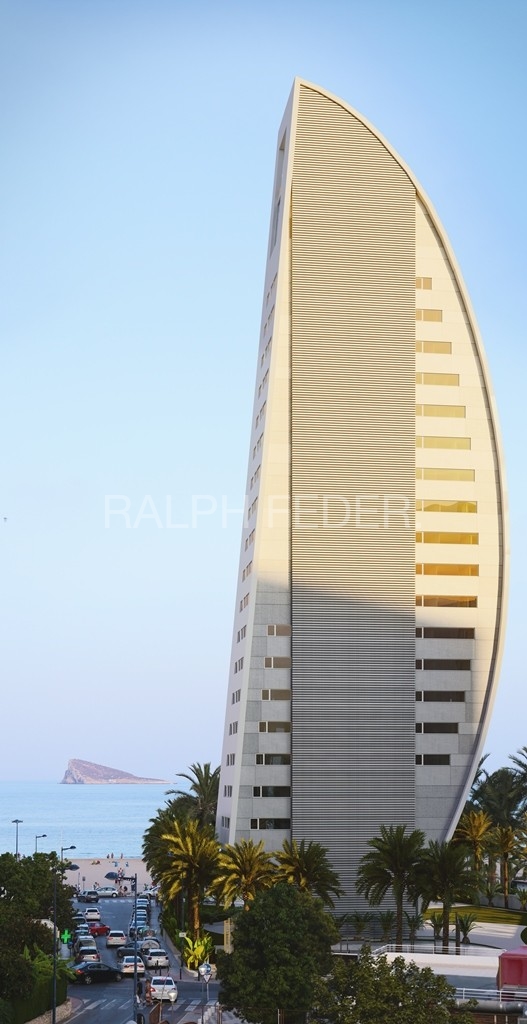 On the beach front of Benidorm a new icon of vertical urbanismwhich has 44 luxury homes.
A luxury apartment building will occupy the last free lot on the first beach line of the Spanish capital of tourism.The building that is characterized by a high level of finishes and an advanced energy efficiency system, which together with its unique double skin design, will make it possible to obtain the "leed gold" sustainable building certification; In addition to equip all the houses with low energy consumption triple AAA appliances, always with high-end brands.
Located in one of the most privileged enclaves of the Mediterranean: Benidorm's beachfront.
Exclusive, select and high-end, has 44 luxury homes, in addition to 4,000 square meters of gardens and urbanization, a common area really complete and attractive for your neighbors to enjoy a holiday without limitations and with all the amenities what they deserve.
The tower will have an infinity pool with an area of 350m2 in fusion with the horizon of the Mediterranean Sea, gym, heated pool with Social Club on the 21st and 22nd floor, and landscaped areas with more than 3000m2 and paddle.
There will also be a space for the storage of water sports equipment.
In the basement, the 59 parking spaces will have a connection for the charging of electric vehicles.
It will also have bicycle parking, vehicle washing area, parking for visitors and 44 storage rooms.With a spectacular and recognizable silhouette, the building will have a buildability of 7,200 m2 in addition to a high level of finishes.
Quality details:• 4000 m2 of gardens and urbanization in front of the beach• Infinity pool•Social Club•Climatized pool•Paddle•Fitness center• Storage of water sports equipment• Sustainable mobility.