Project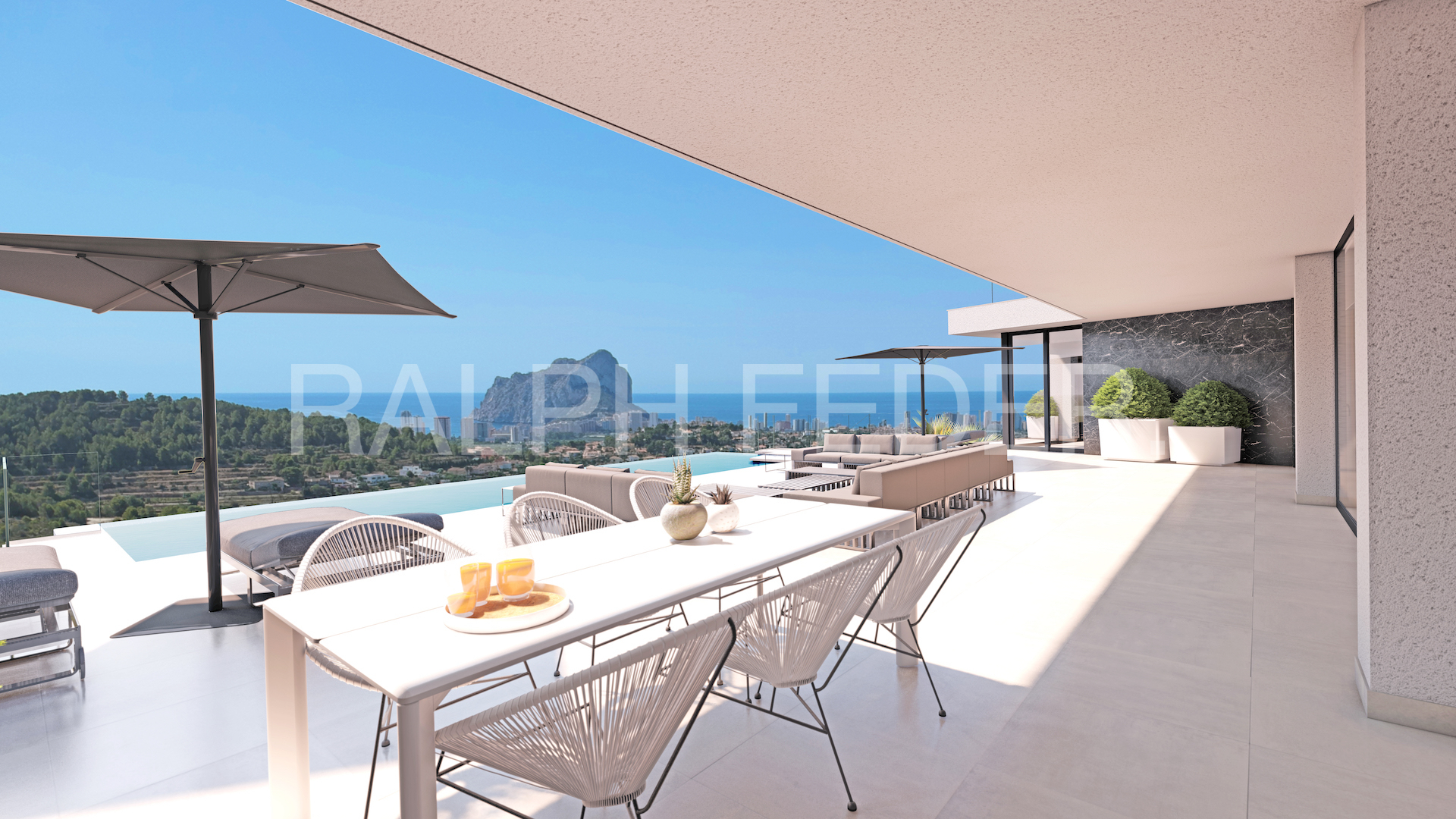 Perched in the picturesque setting of Calpe, with unobstructed views of the iconic Peñón de Ifach, this modern luxury villa embodies the epitome of architectural brilliance and comfort. The 3-tiered design ensures every corner of the house shares the sprawling vistas of the Mediterranean.
Main Floor.
Bedrooms: Two luxurious bedrooms, both with ensuite bathrooms, set the tone for elegance.
Living Spaces: A spacious primary living area complemented by an open kitchen featuring a state-of-the-art cooking island. An additional secondary living room provides ample space for relaxation or entertainment.
Amenities: Convenience is a priority, with the inclusion of a guest toilet, storage room, and a functional laundry room with direct access to an external patio.
Upper Floor.
Master Suites: Two lavish bedrooms dominate this level, each boasting ensuite bathrooms, dedicated dressing rooms, and individual living spaces.
Terraces: Both bedrooms offer private terraces, alongside a shared terrace space that further accentuates the property's panoramic views.
Basement.
Guest Quarters: Two welcoming guest bedrooms come equipped with ensuite bathrooms, ensuring privacy. A shared living and kitchen area ensure guests have a comfortable stay.
Recreational Zone: Fitness and relaxation are catered for with a sophisticated gymnasium, indoor pool, and a designated relaxation area accompanied by a shower room.
Outdoors.
Multiple terraces cascade around the property, converging at the jewel of the outdoors: a pristine swimming pool offering a refreshing dip under the sun.
Garage.
An expansive garage, attached to the main edifice, provides accommodation for up to three vehicles, ensuring security and ease of access.
Modern Conveniences.
The villa doesn't just cater to luxury, but also to modernity. It's equipped with an elevator for effortless movement across floors, underfloor heating for those cooler days, an advanced alarm system with provisions for outdoor surveillance, and the latest in home automation for a seamless living experience.
Conclusion.
With a harmonious blend of luxury, modern amenities, and unparalleled views, this villa in Calpe stands as a beacon of sophisticated living by the sea. The promise isn't just a house, but a lifestyle that resonates with the rhythms of the Mediterranean, accentuated by contemporary comforts.