Under construction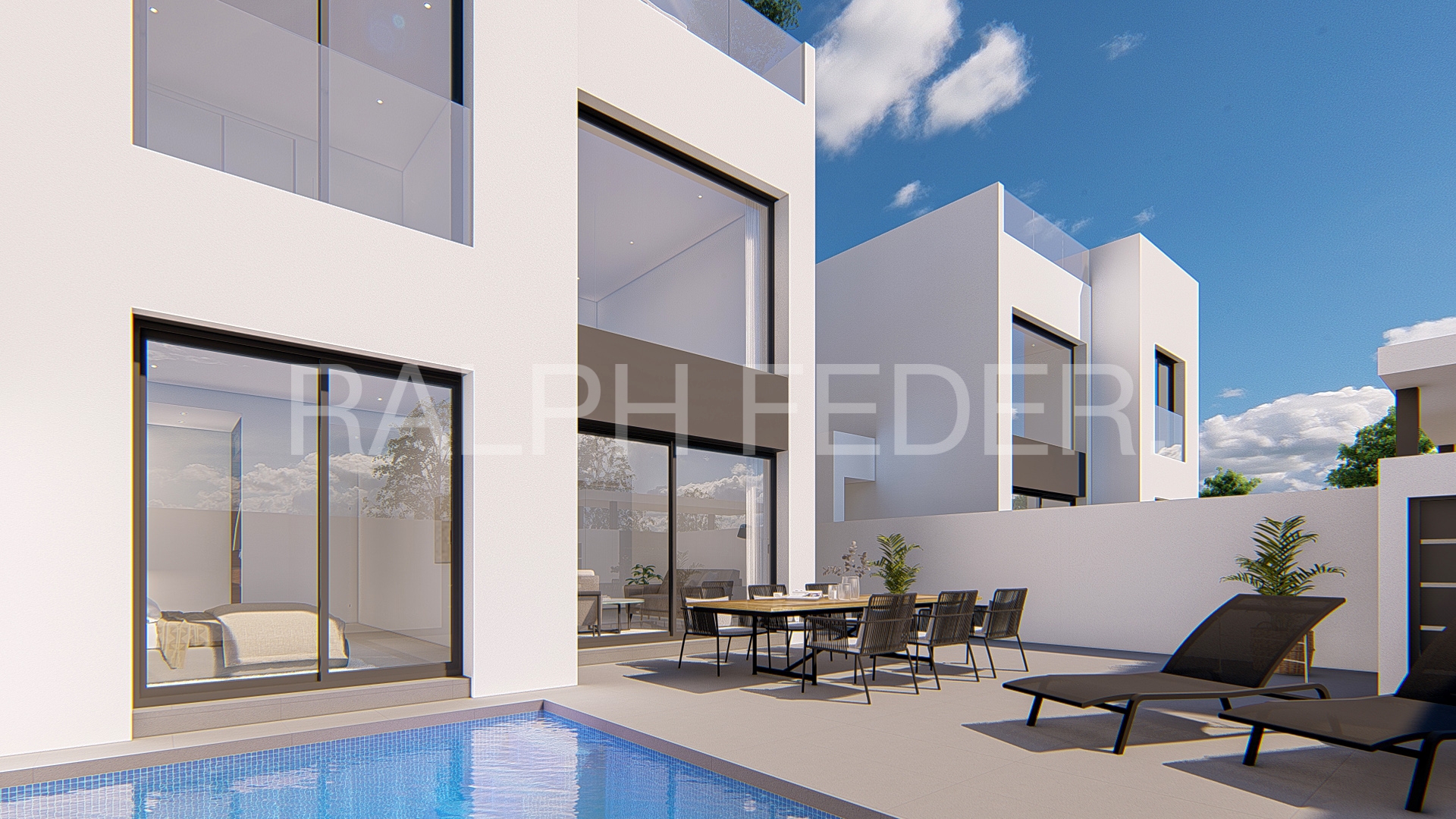 COASTAL ELEGANCE: 4 EXQUISITE VILLAS IN FORMENTERA DEL SEGURA, JUST 10 MINUTES FROM THE BEACH
Nestled within the charming embrace of Formentera Del Segura, a coastal haven that boasts sun-soaked splendor, awaits a remarkable residential development. Four stunning villas, thoughtfully designed and meticulously crafted, offer the epitome of modern living within a mere 10-minute reach of the pristine beaches of Costa Blanca South.
Your Oasis of Luxury Awaits
Indulge in the allure of these four exclusive villas, each a testament to elegance and comfort. Set against the backdrop of azure skies and golden sands, this development captures the essence of coastal living at its finest.
Thoughtful Design, Modern Comforts
Each villa harmoniously merges timeless design with modern comforts. With three well-appointed bedrooms, 2.5 bathrooms, and a spacious living-dining area, these homes invite you to immerse yourself in relaxation. The fully equipped kitchen, complete with a range of appliances, promises a culinary experience that complements the beauty of your surroundings.
Private Pool, Inviting Terrace
Step outside to discover your private oasis—a refreshing pool that beckons you to unwind under the sun's gentle embrace. The terrace, an extension of your living space, invites leisurely mornings and captivating evenings. Embrace the serenity of outdoor living, where each moment is an opportunity to bask in the beauty that surrounds you.
Seamless Connectivity
Beyond your villa's haven, you'll find the allure of Formentera Del Segura at your doorstep. With a convenient parking space, you have the freedom to explore the area at your leisure. The beach, a mere 10-minute drive away, offers endless stretches of pristine sand and sparkling waters, inviting you to create lasting memories by the sea.
A Summer of Possibilities
Anticipation is in the air as the completion date draws near. Summer 2023 promises the fulfillment of dreams—a time to step into your new abode, where the art of coastal living is yours to embrace. Whether you're lounging by your private pool, indulging in culinary delights, or enjoying the proximity of the beach, this summer holds the promise of unforgettable moments.
Secure Your Slice of Paradise
With only four exclusive villas available, this opportunity is a limited one. Secure your slice of coastal paradise and embark on a journey that promises luxury, serenity, and the joys of seaside living. Contact us today to make these exquisite villas in Formentera Del Segura your very own. Your coastal escape awaits, and the beauty of Costa Blanca South is yours to explore and cherish.